Discover how art comes alive in Chinatown—around the corners of lively eateries and quaint boutiques, you'll find ample opportunities to snap Instagram-worthy shots of gorgeous murals, depicting Singapore's past and present.
Spend at least half a day exploring this bustling district, and get ready to feast your senses on beautiful art, cultural landmarks, and delicious food.
1. Lantern Festival by Yip Yew Chong
Your visual adventure begins just outside Chinatown Mass Rapid Transit (MRT) Station. From Exit A, head to the small lane near the Temple Street taxi stand, and across from Mei Heong Yuen Dessert.
You can't miss this mural—a colourful depiction of how Singapore celebrates the Mid-Autumn Festival, a traditional harvest festival that takes place in September to early October. The artist, Yip Yew Chong, is a prominent member of Singapore's street art scene, whose works focuses predominantly on the nostalgia found in our city's rich cultural heritage.
2. Iconic Lanterns and Shophouses of Chinatown
Continue on to Pagoda Street for a gorgeous photo beneath Chinatown's iconic lanterns. The distinctive row of heritage shophouses here are hard to miss, with vibrant colours and architecture hearkening back to Singapore's early days.
While these houses are a blast from the past, they also possess charmingly contemporary design elements—notice the bright yellow flowers painted on the blue shophouse.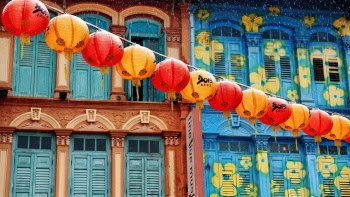 3. Old Trades by Yip Yew Chong
Along Mohammed Ali Lane, you'll spot another snapshot of history—a quirky scene of Singapore's street vendors from our early years of independence in the 1960s.
To gain insights into our city's yesteryears, observe the detailed renderings of old-school goodies in the Mamak Store (provisions stall). A few steps away, a craftsman presents an amusing assortment of masks and toys, while Samsui women (female migrant workers from Sansui District, China, known for their iconic red headscarves) watch from the sidewalk.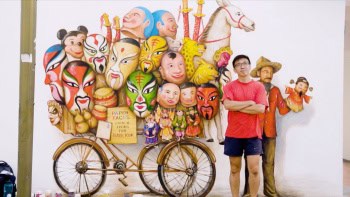 Across the road, you'll find
Sri Mariamman Temple
, Singapore's oldest Hindu temple. Acquaint yourself with this millennia-old religion by admiring its majestic
gopuram
(grand tower entrance) and the elaborate shrines of the establishment's interior.
4. Thian Hock Keng Temple Mural by Yip Yew Chong
Along the back wall of this ornate temple, you'll find another creation by Yip Yew Chong. This sprawling, 40-metre-long mural is a moving testament to the lives of our nation's early Hokkien (a dialect group from south-eastern Fujian in China) immigrants, whose sacrifices greatly shaped modern Singapore.
Before you leave, take some time to deepen your appreciation of Chinese architecture at Thian Hock Keng Temple. This eminent place of worship was built in 1839, and not a single nail was used in its construction.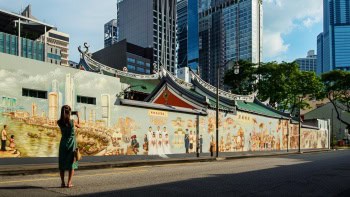 Within the temple, you'll find shrines to deities and prominent figures from Confucianism, Buddhism, Taoism and traditional ancestor worship, making it a great way to learn about the diversity of Chinese spiritual beliefs.
5. Assorted Murals by Anglo Chinese Schools and CENO2
If you're feeling peckish, be sure to venture inside Amoy Street Food Centre and discover Singapore's delicious hawker fare, before continuing on your hunt for inspiration.
Themed 'Then & Now', this whimsical set of paintings is a vibrant tribute by students and staff from Singapore's Anglo Chinese (ACS) Schools. The schools' history is indelibly entwined with the Chinatown neighbourhood, with the first of its campuses being established in the vicinity in 1886.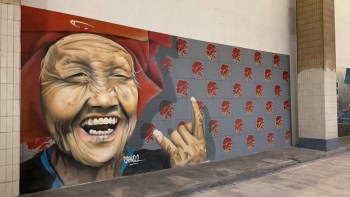 One of the most striking pieces you'll find here is a five-wall composition showcasing the old ACS shophouse, a Samsui woman, traditional hawkers, and other varied renderings of Singapore's past.
6. My Chinatown Home by Yip Yew Chong
Walk over to 30 Smith Street, and you'll get a glimpse into a humble shophouse. It's also a fantastic photo opportunity—from the front, you can almost insert yourself into the scene.
This snapshot of Singapore's earlier days taps on the artist's memories of his childhood, depicting a familial scene from a traditional Chinese home that exudes warmth and nostalgia.
A stone's throw away from this immersive mural is the Buddha Tooth Relic Temple & Museum, a truly majestic sight with architecture influenced by China's Tang Dynasty.
This place of worship occasionally holds classes on meditation and Buddhist traditions, making it a must-visit for the budding scholar of world religions.
7. Hipster Murals by Ripple Root
These abstract murals along Keong Saik Road are a perfect complement to the chic cafes and working spaces in the vicinity. The piece is painted by local art duo Ripple Root, whose works are inspired by wildlife and naturalistic imagery.
The splashes of paint are inspired by Peranakan* tiles, livening up the white walls with vibrant colours. If you're looking to snap an 'Outfit of the Day' (OOTD) shot, this makes for an apt background.
After you're done, take a break from the heat with a refreshing poke bowl at LOLOKU, decorated with cute tropical décor and pink flamingos.
*The term is an Indonesian/Malay word that means "local born", which generally refers to people of Chinese and Malay/Indonesian heritage.
8. Botanical Mural by Ripple Root
The nearby Clan Cafe houses another quirky project by Ripple Root—a swirling botanical mural that perfectly suits the eatery's focus on clean eating and aromatic teas.
If you're parched from all the exploring, be sure to head inside for a tipple and brunch favourites like french toast and granola bowls. Alternatively, the nearby rooftop bar at Potato Head offers cocktails and chill tunes, and is a popular weekend hangout.
9. Mural of Bruce Lee by School of Design
Bruce Lee makes an appearance along the walls of Chinatown Complex, holding the iconic durian, no less.
Painted by students from the school of design at Temasek Polytechnic, this cheeky mural enlivens the area with quirky elements that have come to be commonly associated with Singapore's culture, including the aforementioned fruit. Other local touches include an Oriental dragon, curry puffs, and even an 'I love Singapore' singlet.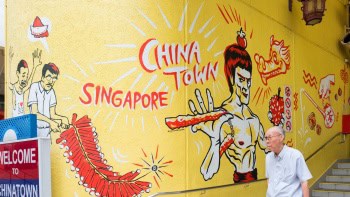 10. Letter Writer by Yip Yew Chong
As you pass by New Bridge Centre on your walk back to the MRT, you'll find a letter writer working hard at his desk, complete with calligraphy tools and freshly-inked couplets hanging to dry.
Drawn based on his experiences of watching these scribes hard at work, Yip Yew Chong has immortalised a scene that's shaped the Singapore of today.